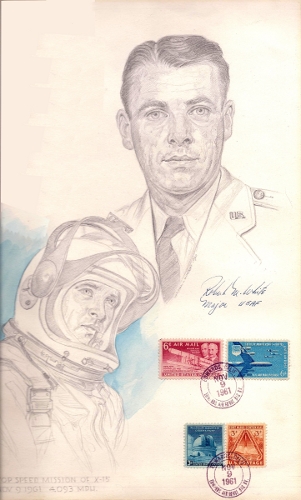 Robert M. White flew the X-15 as its chief Air Force research pilot, contributing greatly to hypersonic and high altitude flight research in the early 1960's. While conducting this research he repeatedly surpassed old records, with these new marks among his achievements:
First to fly faster than Mach 4: March 7, 1961
First to fly faster than Mach 5: June 23, 1961
First to fly faster than Mach 6: November 9, 1961
Official FAI altitude record for highest flight by a winged aircraft,
314,750 feet: July 17, 1962
Bob White held a degree in aeronautical engineering and had a career of distinguished service in the Air Force, retiring as a Major General. General White was a part of aerospace history, not only for the X-15 but for many other achievements. His combat experience covered three wars: World War II, Korea, and Viet Nam. In the last year of WW II, on his 52nd combat mission, his P-51 was shot down over Germany, making him a prisoner of war in 1945.
His many other career duties included command of the Air Force Flight Test Center at Edwards AFB and service as program manager for F-15 development. He retired as a two-star Major General, as Chief of Staff of the Fourth Allied Tactical Air Force. That was a NATO Command inGermany, with authority over air forces of the United States, Germany, and Canada when the country was still divided and the Cold War was still in progress.
The art shown here, by aerospace artist William J. Numeroff, commemorates Bob White's first flight above Mach 6. Click on the image to see this at higher resolution.